Dastkar: 7 Stalls We Absolutely Love
Dastkar, founded in 1981, is a private non-government organisation which work towards supporting traditional artisans from all over India. Dastkar brings together these craftsmen and puts up various exhibitions throughout the year. They have musicians and dancers and some yummy food as a highlight. The vibe is extremely hipster and is a must visit for all the Instagram lovers. From clothes to home furnishing to DIY crafts to plants, everything is available in this cute little market!

They have their annual mela on and we loved these few things a lot:
1. Ochre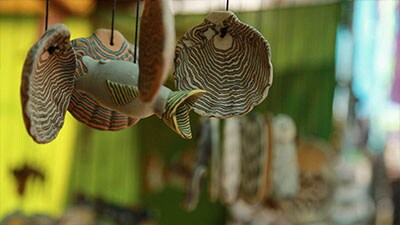 Ceramic and clay together forms this brand. Very abstract and earthy wind chimes, pots for your garden and some very cute earrings, this brand has it all. This brand has the craft from Japan called Nerikomi. Beautiful and very peaceful, these chimes are a must buy to take you into another world altogether!
2. Sutra Crafts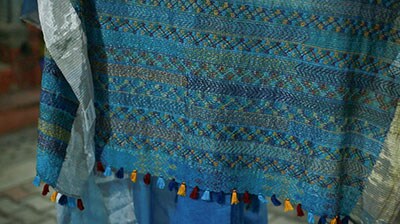 These guys bring together handloom clusters from pan-India and try to get different handlooms or techniques into one product. What we loved is they have chanderi sarees and Lambani embroidery on them. They also have started Gond paintings from Bihar on fabric. This stall is a must visit on your trip to Dastkar.
3. Om Crafts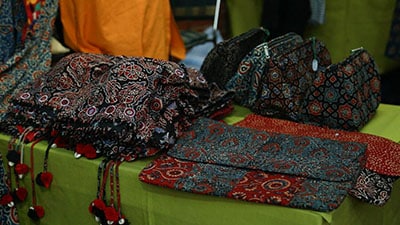 From Gujarat, they sell everything that is made in Kutch but the highlight was Ajrakh. Bags, skirts, kurtas, so so pretty! They have very cute kurtas with Ajrakh and mirror work on them. Check those out for sure!
4. Kastoori Sarees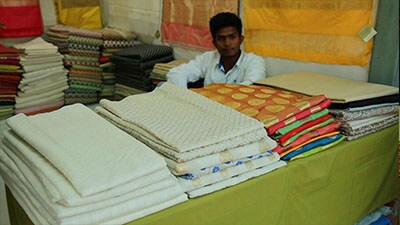 For us, the best combination of handloom and zari work is brocade – and this brand had the most gorgeous stuff ever! With cute birds as their booties to the traditional floral booties, they had it all. And the fabrics were absolute perfection!
5. Khurja Pottery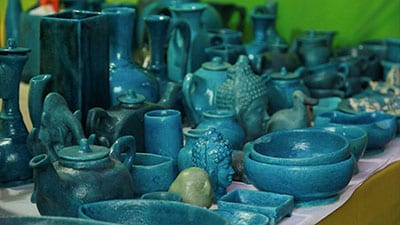 Imagine everything blue on one table, soothing right? That's what this brand is all about. Blue pottery in its truest form. It's a sight you have to see.
6. Aagaaz Chudi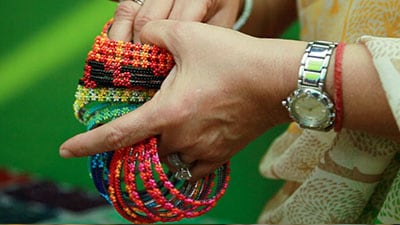 Beaded bangles are the cutest things ever, and that's what this brand was all about. An array of colours available, perfect for the wedding season.
7. Naxalbari Organic Tea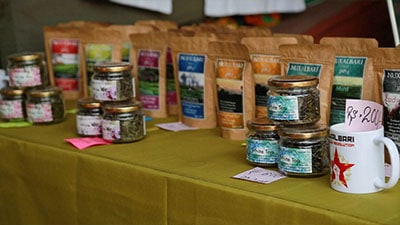 Darjeeling tea right in the heart of Delhi, of course. Check this stall out for the most amazing green tea you can taste. And the best part is that they let you taste the tea before you buy it.